BOOKS and ACADEMIC PAPERS
'My personal hobbies are reading, listening to music, and silence' – Edith Sitwell
IN PROGRESS:
'Tis Nature's Voice: writings and autobiographical memoirs by James Bowman, ed. Andrew Plant
The Legend of my Play: music and narrative structure in the writings of Lucy Boston 
Symposium on Gordon Crosse
IN PRINT / COMPLETED:
Designing in Circles, Conversing in Triangles, Dressing in Squares: tracing the development of the academical dress of the University of Sussex 1958-1966 (FBS dissertation, to be expanded and published soon)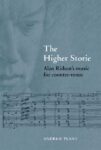 The Higher Storie: Alan Ridout's music for counter-tenor. This monograph is the first study of Ridout's music, much of which is unjustly neglected. It is based on my paper that appeared in British Music 43 (2021) but has now been expanded with clearer music examples and many historical photos (some of which have not been published before) to trace the flowering of a remarkable legacy. The majority of Ridout's scores for counter-tenor were designed for Alfred Deller or James Bowman, and are among his finest and most moving pieces, displaying a keen response to texts and an appealing unsentimental lyricism.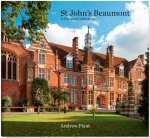 St John's Beaumont : a Pictorial Celebration (Old Windsor: St John's Beaumont, November 2015)
Archaeological chess : John Piper and the Wiltshire Museum Window, in Wiltshire Archaeological & Natural History Magazine vol 107 (2014) [with Ellie Pridgeon]
Another 'Lesser Joy' : a variant of Warlock's carol, in Peter Warlock Society Newsletter 93 (Autumn  2013)
A Rainbow in the Night : the music of Joseph Phibbs (2011)  A short overview for the Philharmonia Orchestra
The Cominge of the Fludde: a Festival Exhibition (Aldeburgh: The Britten–Pears Library, June 2008) [catalogue]
Tracing the threads: perspectives on 'The Turn of the Screw'  Pre-performance talk for Oxford Opera Company, Hertford College, Oxford, 20 February 2008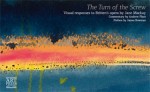 The Turn of the Screw: visual responses to Britten's opera (London: Sounding Art Press, June 2007 [essay and commentaries]
The wonderful artist Jane Mackay and I co-founded Sounding Art Press, dedicated to the promotion of art, music and literature through cross-disciplinary exploration and scholarship, in order to publish Jane's evocative responses to Benjamin Britten's opera The Turn of the Screw, together with commentary, history and music examples.  Her thirty-three original watercolours, one for each scene and variation of Britten's masterpiece, met with great acclaim when first exhibited in 2004 and all were sold almost immediately, so news of this book attracted much attention before publication.  This very desirable edition has been issued in two formats, Artist's Edition (including an original watercolour) and Collector's Edition.  The book was launched in June 2007 at The Britten–Pears Library during the Aldeburgh Festival and distribution is now administered by Boydell & Brewer.
Serenissima: a Festival Exhibition (Aldeburgh: The Britten–Pears Library, June 2007) [catalogue]
Wild Echoes: a Festival Exhibition (Aldeburgh: The Britten–Pears Library, June 2006) [catalogue]
Earth and air and watercolour: art, music and synaesthesia Pre-performance talk for the Tewkesbury Festival, 27 May 2006
The Grey Disturbance: a Festival Exhibition (Aldeburgh: The Britten–Pears Library, June 2005) [catalogue]
Rumours and Visions: a Festival Exhibition (Aldeburgh: The Britten–Pears Library, June 2004) [catalogue]
The Life and Music of Philip Christian Darnton (Ph.D. thesis: The University of Birmingham, 2003)

'O crownèd rose…' : a Festival Exhibition (Aldeburgh: The Britten–Pears Library, June 2003) [catalogue]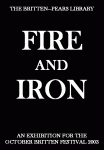 Fire and Iron: an exhibition for the Britten Festival (Aldeburgh: The Britten–Pears Library, October 2003) [catalogue]
An extended investigation into Britten's pacifist beliefs and responses to war, with specific reference to his War Requiem.  Much of the text has since been revised and expanded for publication in the New Aldeburgh Anthology (see below).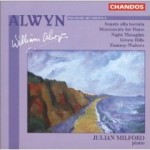 Première recordings of piano music by William Alwyn

(Chandos CHAN9825, 2000) [CD booklet notes]World premiere recordings of four works, concluding with the Fantasy–Waltzes, played by Julian Milford pianoAndrew Plant's exemplary notes… – Piers Burton-Page, International Record Review
Christian Darnton: discovering a contemporary legend Paper for study day, 'Aspects of the British Musical Renaissance', Department of Music, The University of Birmingham, 1 March 1997
CONTRIBUTIONS to BOOKS

'Night's caressing grip': the evolution of Britten's Dream, in A Midsummer Night's Dream (London: Overture Publishing, 2011) in association with ENO.
Part of the celebrated series of Opera Guides.
Brilliantly produced and superb value – The Sunday Times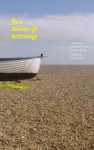 'Fire and Iron: Britten and Pacifism', in New Aldeburgh Anthology (Woodbridge: Boydell and Brewer, 2009). The successor to the original Aldeburgh Anthology of 1972 includes a number of reprints from the first volume and a new survey of Britten's pacifism and his responses to war, always a crucial and central theme in his life and output.  Among works discussed are the War Requiem, Children's Crusade and Who are these children?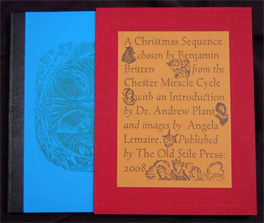 'A great and mighty wonder', in A Christmas Sequence: chosen by Benjamin Britten from the Chester Miracle Cycle (Llandogo: The Old Stile Press, 2008) [introduction] 
Towards the end of his life,  Britten began work on what became known informally as 'the Christmas Noye's Fludde', but he was unable to make much progress on it before his death.  His unset libretto is here published for the first time as an exceptionally beautiful volume from a distinguished private press, together with a full history of the project.
More information here
'Peter Pears and the art collection at The Red House',in Pacifism: omaggio a Britten (Rome: Accademia Nazionale di Santa Cecilia Fondazione, October 2005) [exhibition catalogue], published in Italian translation by Paola Pacetti
'Christian Darnton', 'Bernard Stevens', in Oxford Dictionary of National Biography (Oxford: OUP, 2004)
'Christian Darnton', in The New Grove Dictionary of Music and Musicians (London: Macmillan, 2001; Stanley Sadie ed.)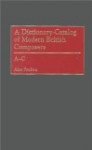 'Christian Darnton', 'Patrick Hadley', 'Peter Warlock', in A Dictionary-Catalog of Modern British Composers 1893–1923
(Westport, CT: Greenwood Press, 2000; Alan Poulton ed.) [detailed works lists]
A three-volume guide to premieres of works by seminal composers of the twentieth-century British musical renaissance.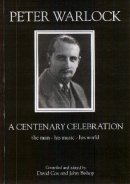 'Warlock and the accompanist', in Peter Warlock: a Centenary Celebration
(London: Thames, 1994; David Cox ed., John Bishop ed.)
Papers and articles to mark the centenary of one of England's most intriguing composers.