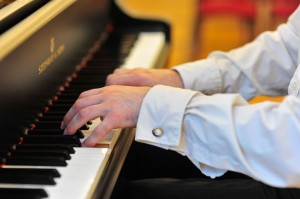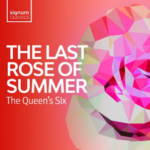 The Last Rose of Summer – The Queen's Six (SIGCD598)
Folksong arrangements by Vaughan Williams, Holst, Paul Drayton and others, including my arrangement of The Water of Tyne.  
Most interesting are the regional origins of the folk songs and the absorbing sleeve notes by Andrew Plant. – Choir & Organ
Dr Andrew Plant's excellent booklet essay… – Gramophone
…spotless recording…fascinating accompanying notes. **** – BBC Music Magazine
*   *   *   *   *   *   *   *   *

Joseph Phibbs – 'The Canticle of the Rose' and other works (NMC D191)
Includes: Two Songs from Shades of Night with Ben Alden, and The Moon's Funeral with Michael Chance
Ben Alden (accompanied by Andrew Plant) has a sound and eloquence positively Peter Pears-ian… – The Sunday Times
Uncertainty and fear course through the accompaniment, played with great skill and poetic nuance by pianist Andrew Plant … Mr Alden sings with poise and terrific diction … [Michael] Chance, one of the best countertenors in the world and one of the few for whom song repertory is utterly natural territory, sings with undiminished eloquence and beauty of tone … ably accompanied by [Andrew] Plant's pianism. – Voix des Arts
The disc ends with something really special in the short song The Moon's Funeral, the countertenor and piano feel like two facets of a single expressive entity, solemnly searching for a way to commune the extent of its heartbreak. – 5:4 Blog
*   *   *   *   *   *   *   *   *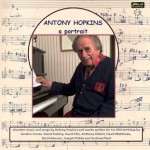 Antony Hopkins – a portrait (DDA 21217)
A double-CD in honour of the distinguished composer and broadcaster, including my miniature setting of Masaoki Shiki's On How To Sing, performed by Lesley-Jane Rogers soprano, John Turner recorders and Janet Simpson piano
Andrew Plant's jeu d'esprit…is a little gem…beautifully sung – MusicWeb International
Andrew Plant's On How to Sing…disjunct and exploratory – Fanfare
…a delightfully entertaining anthology, vividly recorded – Gramophone
…the music written as a 90th birthday collection is, to a man, of no little distinction, demonstrating the esteem in which Hopkins is held by genuine musicians. A wonderful set. – Musical Opinion
*   *   *   *   *   *   *   *   *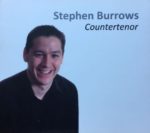 Stephen Burrows countertenor, Andrew Plant piano
Stephen Burrows is a former lay clerk of St George's Chapel Windsor Castle, and Westminster Cathedral. This CD, recorded in Parry Hall, Eton College, in September 2009, showcases his artistry, with music by Purcell, Bach, Handel, Quilter, Ireland and Finzi.
*   *   *   *   *   *   *   *   *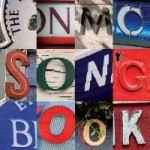 The NMC Songbook (NMC D150)
Four CDs of commissioned songs to celebrate NMC's twentieth anniversary. They include first recordings of The Moon's Funeral (Joseph Phibbs) and Haiku (Bláar Kindsdottir) sung by James Bowman; and Labyrinth to Light (Peter Maxwell Davies) sung by Andrew Swait, all three accompanied by Andrew Plant.
Best Contemporary Release, Classic FM / Gramophone Awards 2009
New material from first-time NMC composer Peter Maxwell Davies, whose setting of the anonymous nursery rhyme 'Labyrinth to Light' for treble (Andrew Swait) and piano (Andrew Plant) is like a slow extended shiver down the spine – The Journal of New Music
The collected performers are all highly accomplished and fulfil their assignments with impeccable musicianship and professionalism – Classicstoday.com
The performances are uniformly superb – Guardian
*   *   *   *   *   *   *   *   *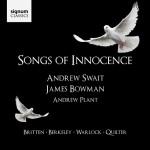 Songs of Innocence (SIGCD128)
Songs of Innocence (Andrew Swait; James Bowman; Andrew Plant)

Recorded in autumn 2007, the CD includes several rare works and arrangements by Britten, with première recordings of four early songs (preceding their first concert performances by these artists), together with music by Barber, Ives, Quilter, Warlock, Williamson and others.
Swait's voice is clear, bright, and tuned with innate precision, ringing with carefree but studious childhood. Bowman, worldly and artistic … phrasing with a characteristic elegance and expressivity.  Andrew Plant accompanies with sensitivity – The Times
Swait is a treble of exceptional musicality … He brings to Britten's 'Diaphenia' and 'The Owl' a winning mix of flight, fragility and innocence and to the folk-inspired traditional songs a gentle eloquence. Britten's 'The Rainbow' finds him duetting happily with veteran countertenor James Bowman. Andrew Plant is the excellent pianist – Financial Times
Swait's voice is the raison d'etre of this project … this disc catches its uniquely fresh and limpid timbre excellently. Material (mainly English) is carefully chosen to suit the treble voice and Swait's clear diction and unaffected directness of communication are very striking.  A highly recommendable recital – HMV Choice
For not a single moment are any parts of these songs forced or contrived.  There is a beauty about both the voices that almost defies description.  And of course, Andrew Plant makes a sensitive accompanist. Finally, there is nothing sentimental about this CD: this is not some choir-robed starlet singing popular tear-jerkers – this is well written and well presented music at its best – MusicWeb International

The magnificent Andrew Swait … has reached a peak of perfection that really cannot be surpassed. He sings with a dexterity and feeling, and across a range of treble tones of the utmost purity, that is amazing, and his power and control are unmatched. This is an historic and beautiful release by one of England's most gifted and absolutely awesome boy trebles – Alpha Records Ltd
TRACK LISTING
I wonder as I wander

Niles

, arr. Britten

In the mornin'

Spiritual, arr. Ives

Diaphenia 

Britten (first recording)

The Owl 

Britten (first recording)

Witches' Song 

Britten (first recording)

Chamber Music V ('Goldenhair')

Britten (first recording)

The Rainbow

Britten (from Three Two-part Songs)

The Oxen

Britten

Little Sir William 

Trad., arr. Britten

Cradle song 

Michael Berkeley

The bayly berith the bell away

Warlock

Tell me, lovely shepherd 

Boyce, arr. Poston

The Slow Train 

Flanders & Swann, arr. Andrew Plant

Ca' the yowes 

Trad., arr. Britten

Silent worship 

Handel, arr. Jacobson

Who is Silvia? 

Wood

Caleno custure me 

Trad., arr. Andrew Plant

Dirge for Fidele 

Vaughan

 Williams

Summer sunset 

Quilter

Slow march 

Ives

Tom Bowling 

Dibdin, real. Britten

Matthew, Mark, Luke and John

Jeffreys

My bed is a boat

Williamson (from A Child's Garden)

Sure on this shining night

Barber, op. 13, no. 3

Sweet and low

 

Williamson (from Six English Lyrics)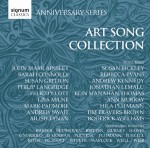 Art Song Collection (SIGCD303)
Art Song Collection (Andrew Swait; Andrew Plant)
'Diaphenia' from Songs of Innocence is here re-released in a collection marking the fifteenth anniversary of Signum Records.  Together with 'Witches' Song and 'The Owl' it is also included on Decca's boxed set of Britten's Complete Works.
*   *   *   *   *   *   *   *   *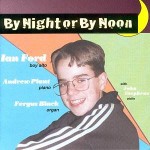 By Night or By Noon (IAF–CD1)
Ian Ford was an alto in the Cambridgeshire Boys' Choir and possessed a clear, rich voice that was allied to a remarkable technique and superb breath control.  This CD captures him in his prime and it was a great pleasure recording it with him.  It is remarkable that most of the disc was recorded in a single day, for which we owe much to our excellent recording engineer, Matthew Dilley.  The four tracks with organ (played by Fergus Black) were recorded a few weeks later on the sparkling Frobenius instrument in the chapel of Oundle School.  The CD includes some of Ian's favourite pieces with a strong bias towards English music and more unusual repertoire: we were anxious to avoid producing yet another collection of over-familiar items.  It was a limited edition, produced primarily for friends but there are still some copies left, so do contact me if you would like to purchase one.
TRACK LISTING
An die Musik

Schubert (D. 547)

Mondnacht

Schumann (from

Liederkreis

, op. 39, no. 5)

Après un rêve

Fauré (op. 7, no. 1)

My lady's garden

Trad. French, arr. Quilter (first recording)

Silent worship

Handel, arr. Somervell

Marienwürmchen

Trad., arr. Brahms (from

Volks-Kinderlieder

)

Foxgloves

Head

O waly, waly

Trad., arr. Britten

King David

Howells

Mississippi

Moon

Wayman (from

Huck Finn

, first recording)

The Night

Rubbra (op. 14, no. 1, first recording)

O rest in the Lord

Mendelssohn (from

Elijah

)

Präludium

Micheelsen (from

Das Holsteinische Orgelbüchlein

)

Three Motets

Micheelsen (first recording)

In the mornin'

Spiritual, arr. Ives

This endris night

Milford

(Four Seasonable Songs, no. 4, first recording)

The Birds

Britten

Corpus Christi

carol

Britten (from

A Boy was Born

, op. 3)

Christ, the children's friend

Cornelius (from

Weinachtslieder

, op. 8, no. 5)

Walking in the air

Blake (from

The Snowman

)

A New Year Carol

Britten (from

Friday Afternoons

)