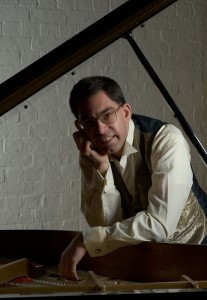 Andrew Plant studied the piano in London with Christopher Elton, took his first music degree at The University of Leeds and his doctorate at The University of Birmingham, where he worked with Jan Smaczny and Stephen Banfield and was a visiting lecturer.  His Ph.D. thesis was the first major biographical and analytical study of the composer Christian Darnton.  Andrew is also an expert on the music of Britten: after teaching the music scholars at Uppingham for several years, he spent almost a decade on the staff of The Britten–Pears Foundation.  Following this appointment, he was invited to become Assistant Director of Music at St George's School, Windsor Castle; and following several years of directing the Chapel Choir at another London prep school, he is now freelance. He has been an external academic supervisor for King's College, Cambridge and has contributed to several major scholarly publications.  He co-founded Sounding Art Press with artist Jane Mackay and they continue to explore new projects.
Andrew enjoyed a long-standing and particularly fruitful recital partnership with the distinguished counter-tenor James Bowman until the latter's retirement, with appearances throughout the UK and abroad, live broadcasts on Radio 3, and recordings for Signum Classics and the award-winning NMC Songbook.  Andrew has also partnered Ben Alden (both in concert and on CD), Stephen Burrows, Michael Chance, Nicholas Clapton, Lynne Dawson, Nigel Dixon, Michael George, Stefan Holmström, James Gilchrist, Julie Kennard, James Laing, Philip Lancaster, Alexander Learmonth, Ed Lyon, Ralph McDonald, Daniel Norman, Ana-Maria Rincon, the treble Andrew Swait and the virtuoso recorder player John Turner, and has worked with a number of acclaimed conductors, including Steuart Bedford and Oliver Gooch. Committed to new music, his own work has been performed and recorded by Lesley-Ann Rogers, The Queen's Six, contemporary ensemble EXAUDI, and other international singers.  He has given first performances of several early songs by Britten, and works by Sir Peter Maxwell Davies, Ivor Gurney, Sadie Harrison, John LeGrove, Colin Matthews, Graham Peel, Joseph Phibbs, Tom Rose, Martin Shaw, Giles Swayne and Arthur Wills.
Future plans comprise further recitals with Ben Alden and Stephen Burrows, and a second recording with Ben Alden of songs by Britten, Gurney and Joseph Phibbs.
Please contact me via the Home page if you wish to use any part of this biography in a concert programme